We are so excited to finally have a permanent studio base after 8 + years of operating entirely mobile.
Our studio is located at 2/17 Hulme Court, Myaree and is an artist's dream. With high ceilings, concrete floors and plants a many, this space feels cosy, whilst still being practical to our needs. We can fit up to 40 painters in our downstairs space and are fit with a stage and microphone to make your painting experience as smooth as possible.
There are drinks available for purchase a the bar and cheese boards that can be added on to your booking.
Take a photo in front of the infamous Cabernet & Canvas wall, or head up the wooden stair case to the mezzanine level where we teach our Life Drawing classes.
Upstairs features pastel tones, comfy bean bags and dried floral arrangements. Perfect for more of an intimate setting, and versatile enough to suit any event.
The studio is available for hire for Private and Corporate Events and has a secondary space that can be used for meetings, brainstorming, or post-painting drinks.
Pop in today for a visit or contact us at [email protected] to arrange a walk-through. Find us at 2/17 Hulme Court, Myaree
The Main Event Space
Our Main Event Space can seat up to 40 painters and is where we conduct the majority of our classes. We conduct the classes from up on a stage and walk around the room to make sure you are all on track! The venue has a disabled toilet and is on the first floor of the building, so is wheelchair accessible.
We also have a full stocked bar up the back and a small fridge if you want to bring a birthday cake or organise any catering.
Our current stockists are: James Squire 50 lashes, Rapura Wines (NZ) and Jacobs Creek.
The Mezzanine Level
The spacious Mezzanine Level is where we conduct our Life Drawing classes, but can be used for a variety of purposes. The styling features pastel peach tones, comfy seating and dried floral arrangements. Perfect for more of an intimate setting, and versatile enough to suit any event.
The space can also be used as a secondary meeting space either before or after your session for brain storming, or post - painting drinks.
We don't just host classes in the studio - 
we're everywhere. Find a class near you!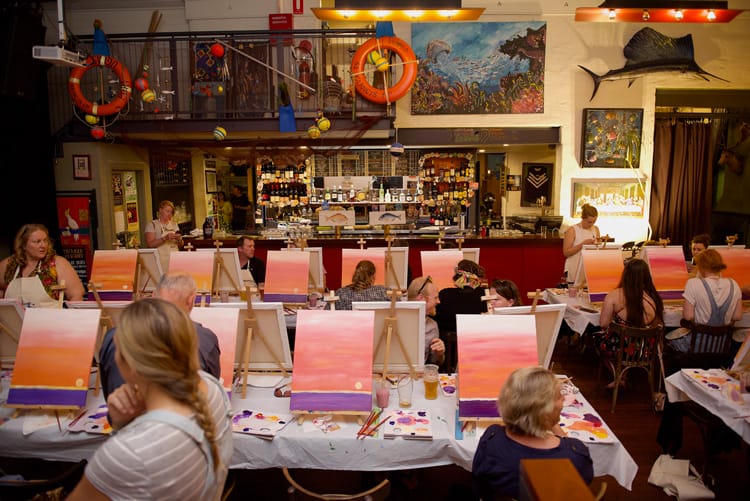 Our friendly and talented artists here at Cabernet & Canvas are ready to guide you step-by-step through our painting each class.
They are all accomplished artists in their own right and bring their own style and creativity to their teaching.
Get to know them below.
Jaccie Gillett

b
OWNER & DIRECTOR
Jaccie is now the sole owner and Director of the business who loves to bring joy and humor to her classes. Chances are if you've done a class you would have met her! Jaccie has a Bachelor of Fine Arts from Curtin University (2015) and a Diploma of Secondary Education from Edith Cowan University (2017). She was also part of the Special Art Program at Apple cross Senior High school and graduated there in 2011. She has previously worked for Sculptures by the Sea, Fringe Festival and Propel Youth Arts, although has left her festival life behind now in favour of teaching and a passion for the business.
Olivia Ryan

b
EVENT MANAGER
Liv is our Event Manager who takes all of our mobile classes. Her personality is vibrant and bubbly and she loves a good chat! Liv is the person to go to if you are having troubles with your painting or feeling a little disheartened as she is sure to perk up your mood! She loves dogs and print making and actually studied with Jaccie at Curtin University. You can catch Liv three days a week at our Myaree studio and most nights in the pubs!
Ali Collier

g
GRAPHIC DESIGNER
Ali is our in-house Graphic Designer! She's always smiling and so excited to meet new people and see your masterpiece come to life! Ali loves dogs and kids, and actually has her own business Energised Minds mentoring tweens and teens! You can catch Ali in the studio three days a week designing things such as social graphics, function packs and signage, as well as doing some admin and web tasks! Event wise, Ali runs a bunch of our fun private classes which she loves doing, as well as being the instructor to our Online Painting Tutorials for our Paint & Sip Craft Kits!
Katelyn Clark

r
MARKETING & EVENTS COORDINATOR
Meet Katelyn, our smiley and amazing Marketing & Events Coordinator! She'll be the one checking you in and seating you at our events and on days in the office you can find Katie happily nerding out on SEO tags, and writing the best emails! Katelyn is a self-taught portrait artist who was once a customer herself, which is probably why Paint Your Mate is her favourite class! Catch her grooving along in any of our south of the river venues – she loves compliments on her playlist.
Mitra Aspandiar

b
CLASS INSTRUCTOR
Mitra has recently dipped back into her artistic roots after giving up the paintbrush for a career in Marketing. She currently works for a technology startup but uses Cabernet and Canvas as an outlet for her creative spark. You can ask Mitra anything to do with blending colours, Monet, cyber safety, Italian food, wine and op-shopping.
Imen Chow

b
CLASS INSTRUCTOR
Imen works full time as an International Relationship Manager for CIZZY Bridal Australia seeing her flying overseas to work on awesome Bridal Shoots for International Wedding Expos. She also manages her own makeup business and regularly does makeup for Bridal Shoots. Imen has been teaching our classes for a few years now and loves getting the opportunity to tap into her creative side.
Britt Manifis

g
CLASS INSTRUCTOR
Britt is another one of our amazing class instructors! Her infectious happy energy is just one of the things we love about her (as do our attendees!). Britt has dabbled in many different fields like fine art, theatre, even professional mermaiding! Right now she is an Auslan interpreter-in-training and signs for our events when she doesn't have a paint brush in hand! You can catch Britt at any of our north of the river locations and in our Myaree Studio too.
Josephine Campbell

r
CLASS INSTRUCTOR
Josephine is always down for a giggle and a chat, and loves to help with colour mixing. She is currently studying biomedical engineering, but enjoys keeping a balanced brain through her artwork. Her art practice focuses on a mix of portraiture and native Australian flora. You can catch her at the studio or any of our North of the river venues.
Lily Kellahan

b
CLASS INSTRUCTOR
Our amazing Lily is a fun-loving, easy-going chicky who will instantly settle any nerves you have about painting. You'll find Lily across lots of our private and studio classes, and at our South of the River venues!
Georgie Moss

g
CLASS INSTRUCTOR & ASSISTANT
Georgie is another one of our incredible instructors and assistants! A real down-to-earth human who loves to get to know you in our classes. Georgie is also an amazing flora & fauna artist who paints the most beautiful detailed artworks on wood slices! You can find Georgie in our south of the river venues, the Studio and private events.
Sarah Soulay

r
CLASS ASSISTANT
Super smiley Sarah is one of our newest class Assistants, bringing her love of painting and people together - she is an absolute blast to work with! Sarah has just graduated Fine Arts at UWA and is such an amazing Artist painting in her spare time outside of the Cab Canvas classes. Catch Sarah in our North of the river venues.
Isabelle Pearce

b
CLASS ASSISTANT
Izzy is another one of our newest class assistants. If you need a boost of confidence and a helping hand, she is your go-to girl, always eager to make sure you love your painting! Outside of Cab Canvas Izzy models and also runs her own little biz - Honey Jade Jewellery where she up-cycles old jewellery from op shops and handmakes them into brand new pieces, they are so beautiful! You'll find her at our South of the river classes.
Grace Yong

g
CLASS ASSISTANT
Quirky Grace is an amazing class assistant here at Cab Canvas! She is always jam packed full of energy ready to make sure you have the most fun at one of our classes. Grace is currently studying Fine Arts at Curtin University and in her spare time crocheting anything and everything - her creativity is insane! You can find Grace at our South of the river venues.